Vixen Creations is a name that's synonymous with high quality dildos. Their Goodfella model has some high points, but it's also been somewhat misrepresented. It's time to set the record straight on Goodfella.
Goodfella is a great starting point if you're new to strap-on sex. The silicone is soft and velvety, and the firm inner core provides realistic feel. The shaft is slightly detailed with veins, and the head is nicely shaped. The 3D balls also have some texture, including a prominent raphe (scrotal seam.)
With a non-slip base, Goodfella works very well in a strap-on harness. A very nice feature of Goodfella is that the balls hang on the outside of a harness' O-ring, providing some perineal pleasure for your partner. Surprisingly, this is a pretty unique offering in the world of dildos.
How to Use Goodfella With a Harness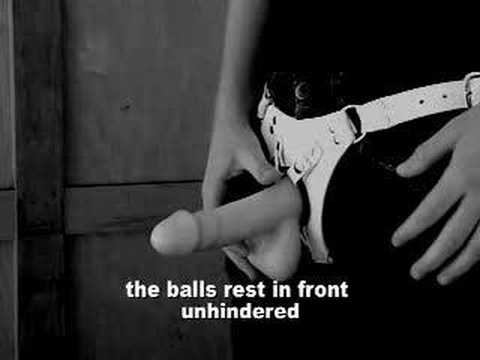 So far, so good, right? Now it's truth time.
Vixen Creations staff: "Comfortable to pack"

Sugarbutch: "[Goodfella] would have been in tight competition with the Silky as The Best And Most Superior And Most Comfortable Cock That You Can Pack AND PLAY With"
It's difficult to reconcile these statements.
Goodfella has been marketed as a pack & play dildo, but the firm base isn't comfortable for packing, and the 5" length, firmness and upward angle can look a little obscene in your shorts. Goodfella is maybe suitable for special occasion and private packing, but it's not designed for the stealth variety of packing.
Goodfella is reasonably sturdy, but your harness' O-ring will likely cause some damage over time. (Goodfella has a 1-year warranty.)
Overall, Goodfella is a very reliable dildo that has excellent tactile feel, and it's smartly designed for strap-on harness use. However the smallish size is limiting, and Goodfella is not recommended for packing.
Specifications
Size: 5″ long x 4.5″ circumference; balls measure 2 long x 2 1/2" wide x 1" thick.
Materials:  Platinum silicone, phthalate free and hypoallergenic.
Colors: Vanilla, Caramel, Chocolate
Price: $126 USD
Buy Now